When fall comes around and a lot of fresh fruits aren't available, it's nice to have a few apple smoothie recipes in your back pocket to pull out. This Warm Apple Pie Smoothie has some rolled oats added for added fiber and an extra thick n' creamy texture.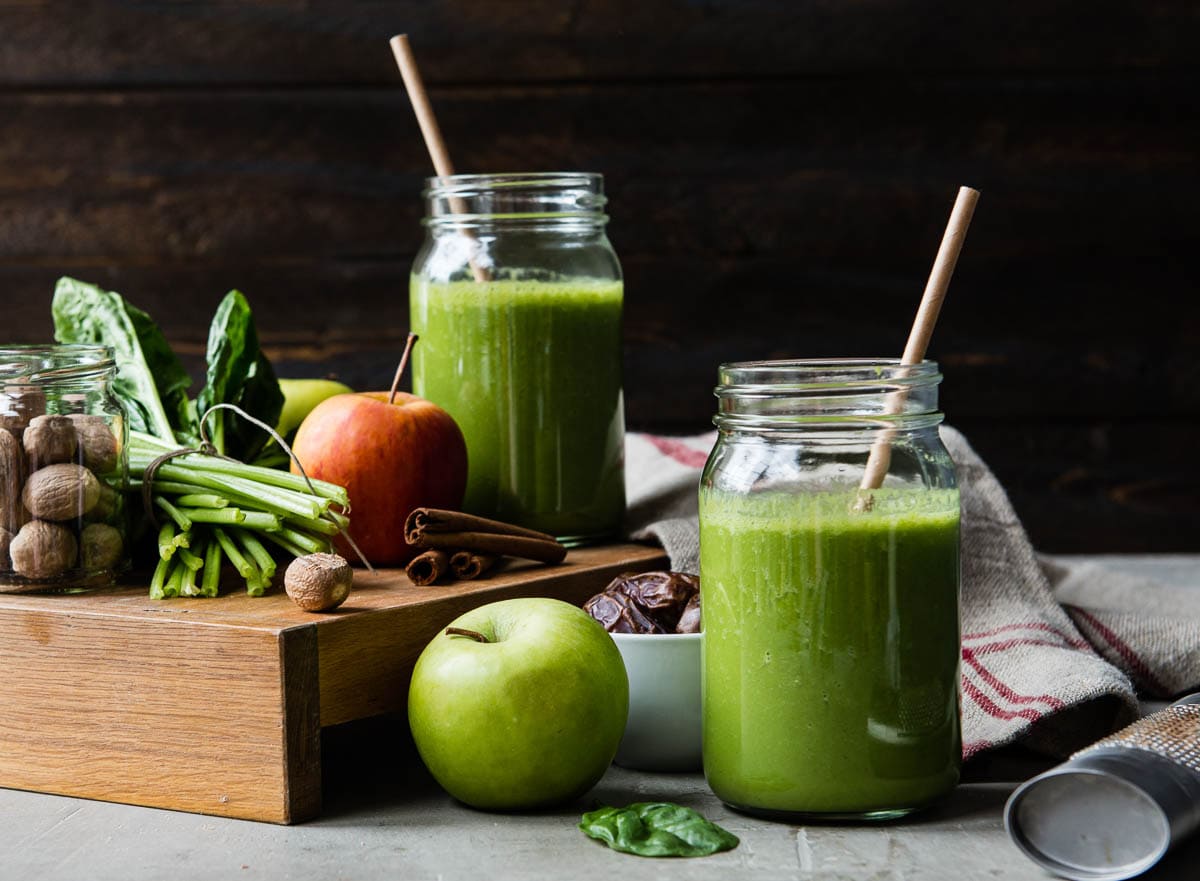 I was skeptical about drinking my first warm smoothie, yet it's definitely a cool weather game-changer. Whether you want to drink it hot or at room temp, this is a great way to enjoy a healthy snack or breakfast as the weather turns.
Table of Contents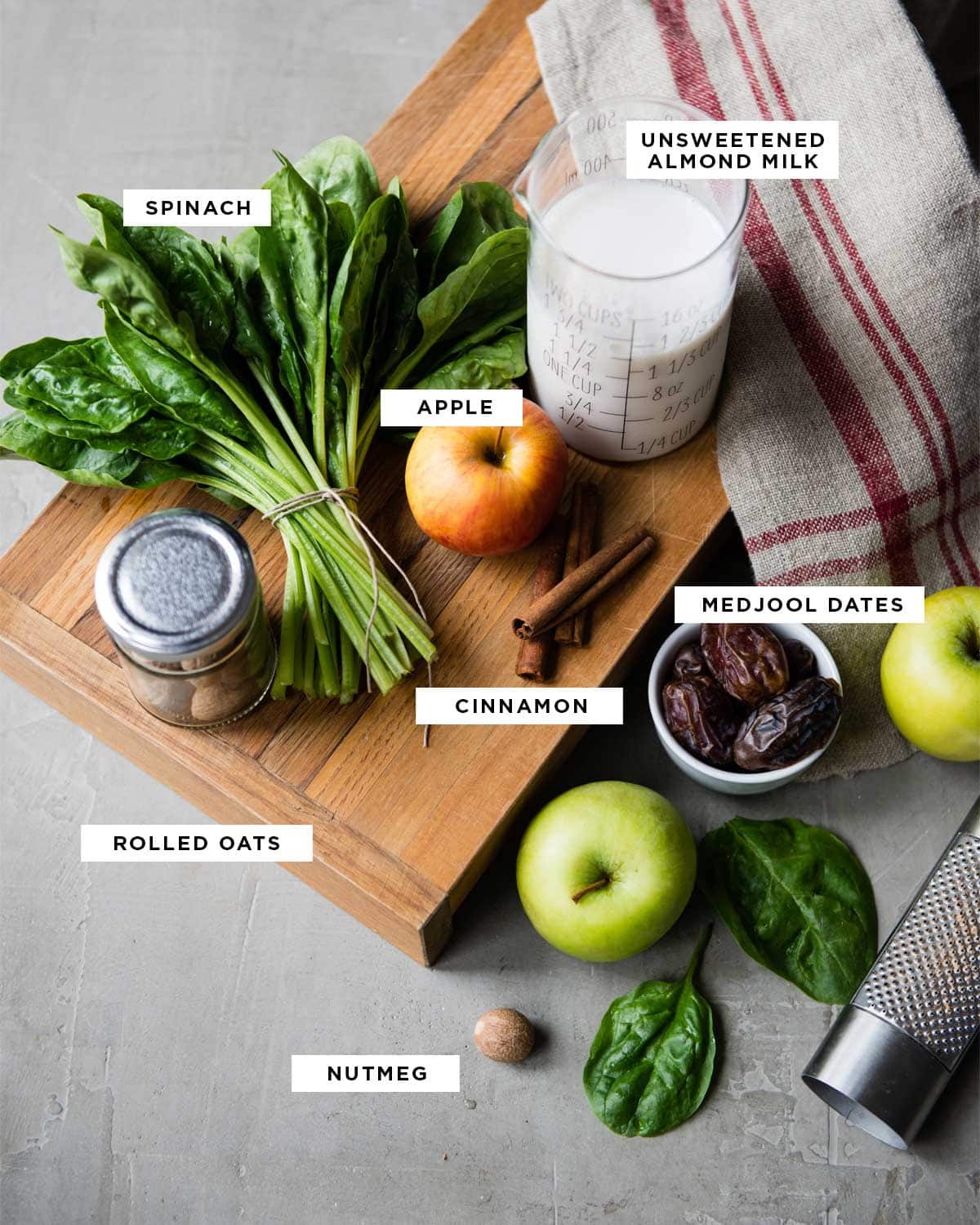 Apple Pie Smoothie Ingredients
This festive smoothie might just have a place for Thanksgiving breakfast. It gives off some serious pie-flavor vibes. Here's what I'm blending:
Rolled Oats: I always use oats in apple pie, so why not in an apple pie smoothie?!
Medjool Dates: This gorgeous fruit adds sweetness to any recipe.
Spinach: A mild leafy green adds fiber… and you don't even notice it in this fun beverage.
Unsweetened Almond Milk: Feel free to use the plant milk of your choice. I love that almond milk is light and nutty, adding another level of flavor.
Apple: Choose the apple variety of your choice. I love tart Granny Smith apples or bright Honey Crisp for this smoothie.
Cinnamon: This spice brings a lovely hit of spice that is typical to apple pie.
Nutmeg: Add a warming spice like nutmeg for the final touch. Just remember, a little goes a long way!
This is different than my other smoothie recipes, yet it is fun and festive to enjoy on a cool day. If you struggle drinking green smoothies during winter then give this warm smoothie a try!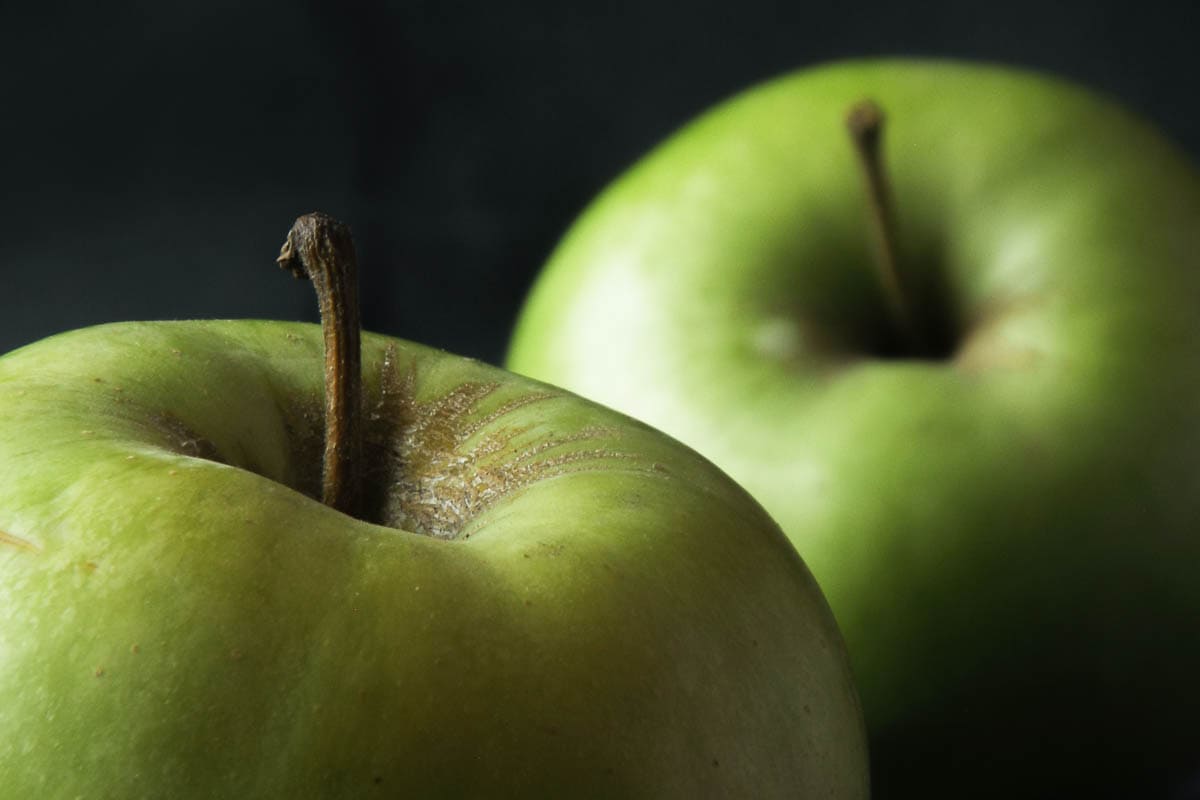 The Best Apples for Smoothies
I typically reach for green apples when adding them to smoothies, to cut back on the natural sugar from fruit. You can totally use the apples of your choice in any smoothie! Apples are a unique smoothie ingredient, especially if you normally blend more tropical smoothies, yet give them a try! You might be surprised how much you like the subtle flavor.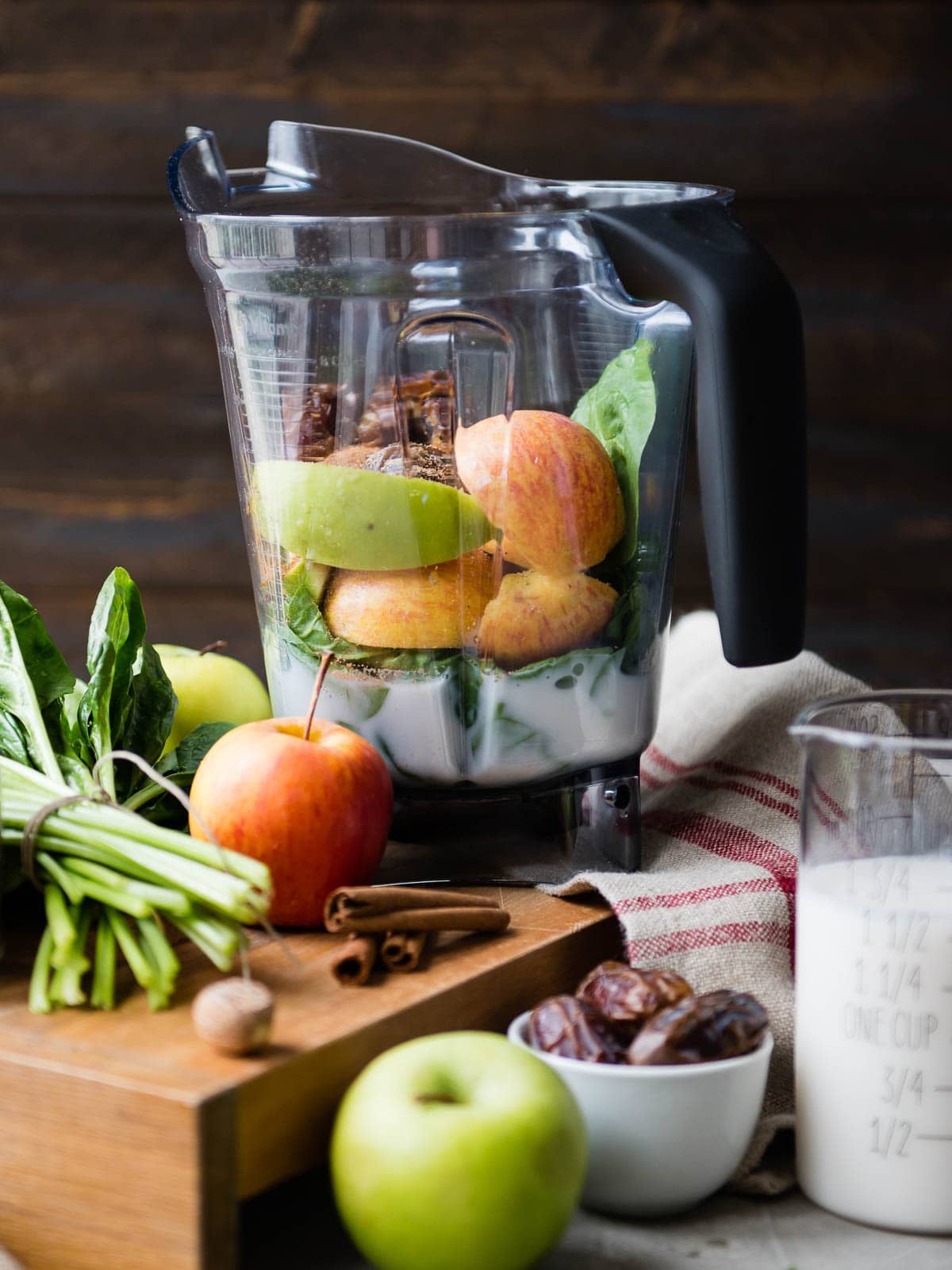 Warm Apple Pie Smoothie Recipe
This is a unique departure from my regular smoothie recipes since it is a warm smoothie. I know that sounds odd to some, but it seriously helps me drink green smoothies throughout the cooler months. To blend my apple pie smoothie:
Add hot water, dates and oats to the blender. Allow to sit for 5-10 minutes to soften both the dates and the oats. This will aid in the blending process.
If you're using a non high-powered blender, blend the contents of your blender. It should have an oatmeal texture at this point, and give the dates a little extra time to break down.
Add the remaining ingredients and blend again until smooth. Chop up your apple and even peel it if needed to get the smoothest blend possible.
You can treat this like a dessert and top it with coconut whipped cream and another shake of cinnamon and nutmeg for a cozy experience.
Tips for Blending Apples
Apples can change the texture of a smoothie from smooth to gritty. To avoid this, follow a few easy tips. First, if you aren't using a high-powered blender, feel free to peel and core your apple before blending. This will give your blender an easier time blending. Second, blend longer than you normally would. Since this is meant to be enjoyed warm or at room temp, don't be afraid to blend longer to really give you a smooth texture.
Finally, if you aren't a big fan of apples, swap them with pears! Pears are softer and end up less gritty in a smoothie.
Apple Pie Smoothie FAQs
Can apples be blended?
Yes! If you have a high-powered blender, you can just toss a washed apple right in. If not, then peel and slice it to remove the core and skin as that will help your blender blend better.
Can an apple smoothie be good for your health?
Yes! My green smoothie is packed with whole food ingredients like spinach, dates, fresh apples, oats and spices for a fiber-packed, delicious snack.
What kinds of apples are best in smoothies?
I like using green apples since they are slightly lower in natural sugar and more tart, yet you can really use any kind of apple you wish. If one apple smoothie isn't your fav, try another with a different kind of apple! You might be surprised.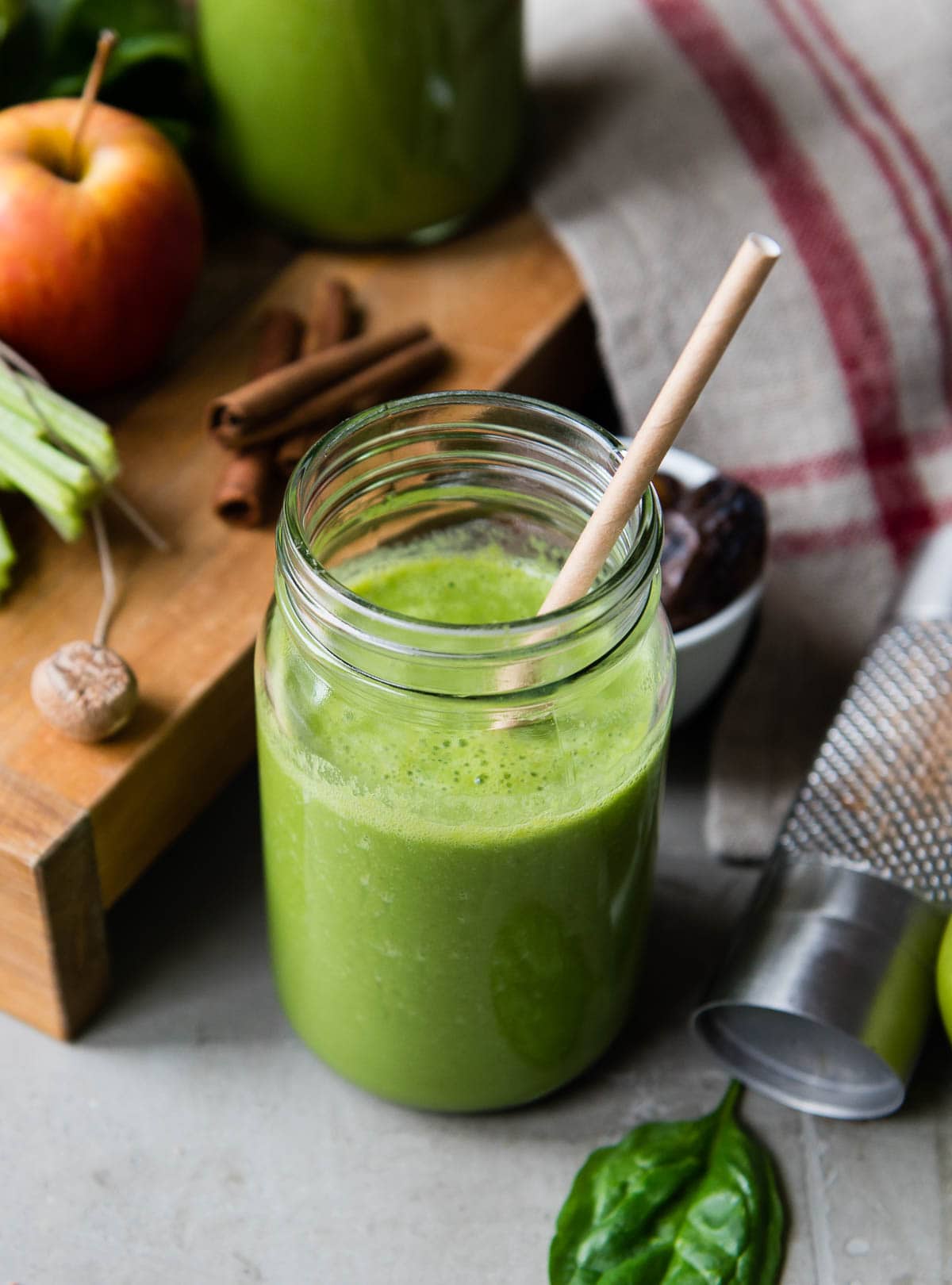 More Smoothies with Apples
Apples are a great smoothie ingredient since they are typically available year round and are a fairly affordable fruit. Here are a few of my fav smoothie recipes that feature apples:
Green Apple Smoothie: This is the ultimate apple smoothie; I created it for green apples to shine.
Celery Fennel Apple Smoothie: This is a great 'green' green smoothie with a variety of flavors and produce.
MCT Oil Smoothie: This is a great smoothie for those that want to give their digestion a boost, or need for things to 'move along,' if you know what I mean.
Fruit and Vegetable Smoothie: I love this kitchen sink smoothie. It's got it all!
Maple Apple Smoothie Bowl: Sometimes I just want a thicker smoothie, and that's when I turn to this lovely smoothie bowl. The perfect base for so many toppings.
Apples are also a great swap in smoothies that call for pear, yet you don't have one on hand… or that pear just isn't ripe yet. What apples do you like to add to smoothies? Rate + review this recipe once you've made it and let me know!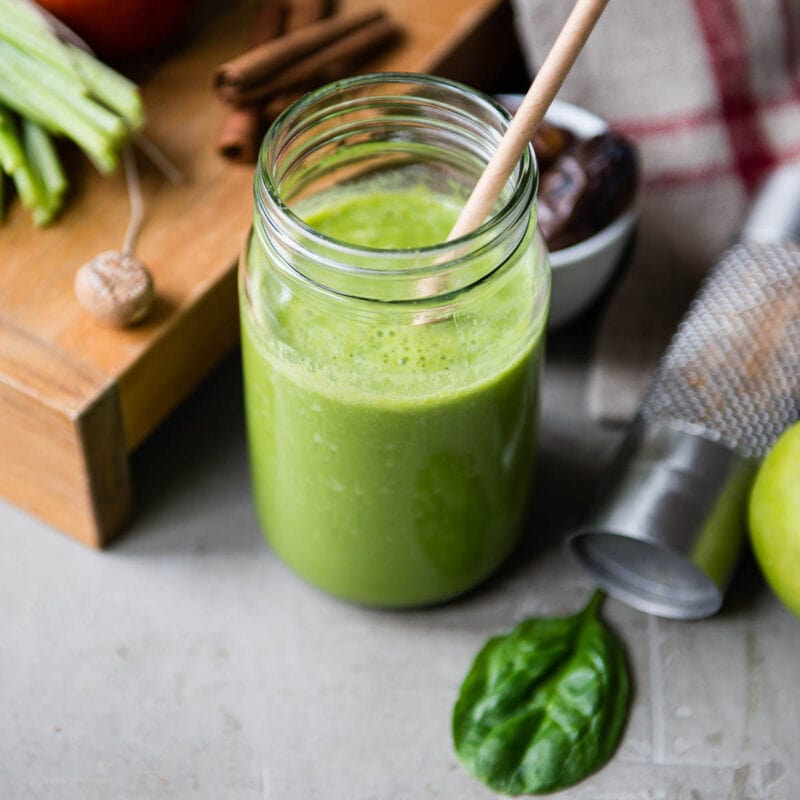 Apple Pie Smoothie
All of the goodness of Autumn is contained in this yummy, warm apple pie smoothie. Packed with spinach, apples and a touch of cinnamon and nutmeg allows you to enjoy a dessert in a mug using whole food, plant-based ingredients.
Ingredients
¼

cup

hot water

2

tbsp

rolled oats

2

medjool dates

pitted

1

cup

spinach

1

cup

almond milk

1

apple

cored and sliced

1

tsp

cinnamon

ground

⅛

tsp

nutmeg

ground
Instructions
Add hot water, oats and dates to a blender. Let stand 5-10 minutes.

Add the remaining ingredients. Blend on low speed, increasing speed until very smooth. If using a high speed blender, continue blending using the soup function or high speed, until smoothie is hot.

Pour into a mug and sprinkle the top with extra cinnamon and nutmeg, if desired.
Notes
Make sure your blender is rated for hot liquids before pouring hot water into it. 
Swap almond milk with the plant milk of your choice.
Swap dates with natural sweetener of your choice.
Feel free to add coconut whipped cream to the top of the finished smoothie if you want a more dessert-like experience.
To lower the natural fruit sugar in this smoothie, omit 1 date.
Nutrition
Calories:
329
kcal
,
Carbohydrates:
74
g
,
Protein:
5
g
,
Fat:
4
g
,
Saturated Fat:
0.3
g
,
Polyunsaturated Fat:
2
g
,
Monounsaturated Fat:
2
g
,
Sodium:
352
mg
,
Potassium:
756
mg
,
Fiber:
12
g
,
Sugar:
52
g
,
Vitamin A:
2990
IU
,
Vitamin C:
18
mg
,
Calcium:
400
mg
,
Iron:
8
mg