This Savory Smoothie is high in protein, loaded with veggies and savory flavors and is incredibly delicious. If you're looking for new smoothie flavors then this savory protein shake is a great recipe to venture out in search of a more tangy taste.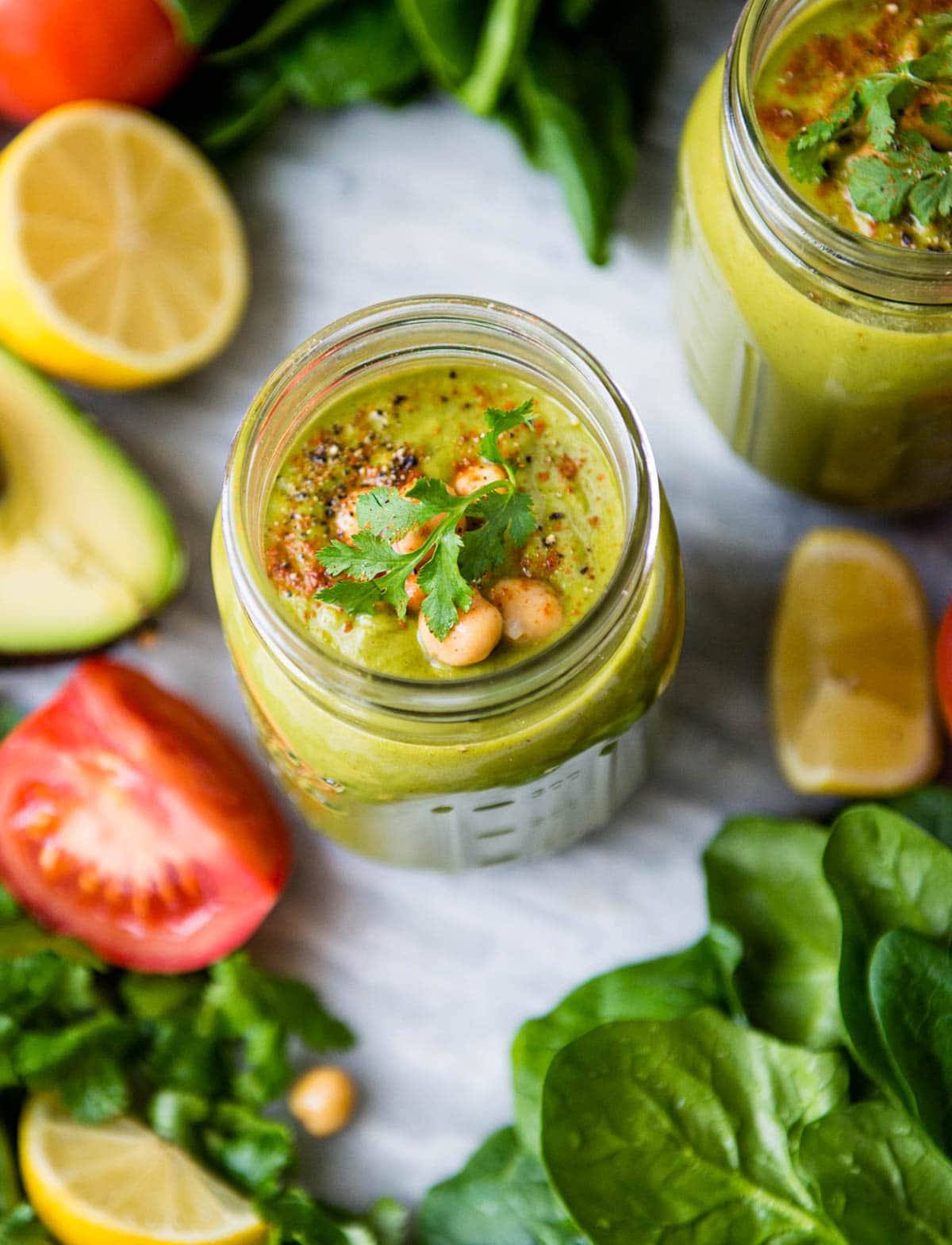 My savory smoothie was inspired by the slow carb movement, which is a great way to lean up and build muscle too. The Slow-Carb Diet, made popular in Tim Ferriss' book The 4-Hour Body, has taken the world by storm. The idea behind the diet is pretty simple. Eliminate all sugar, even from fruit, and focus on eating protein-rich foods and healthy "slow-carbs," including tons of veggies, to help you lose weight.
I don't personally believe in eliminating all sugars, yet I think having this smoothie for a meal isn't a bad thing. Some days I crave more vegetables and don't want something sweet— and this smoothie hits the spot.
Table of Contents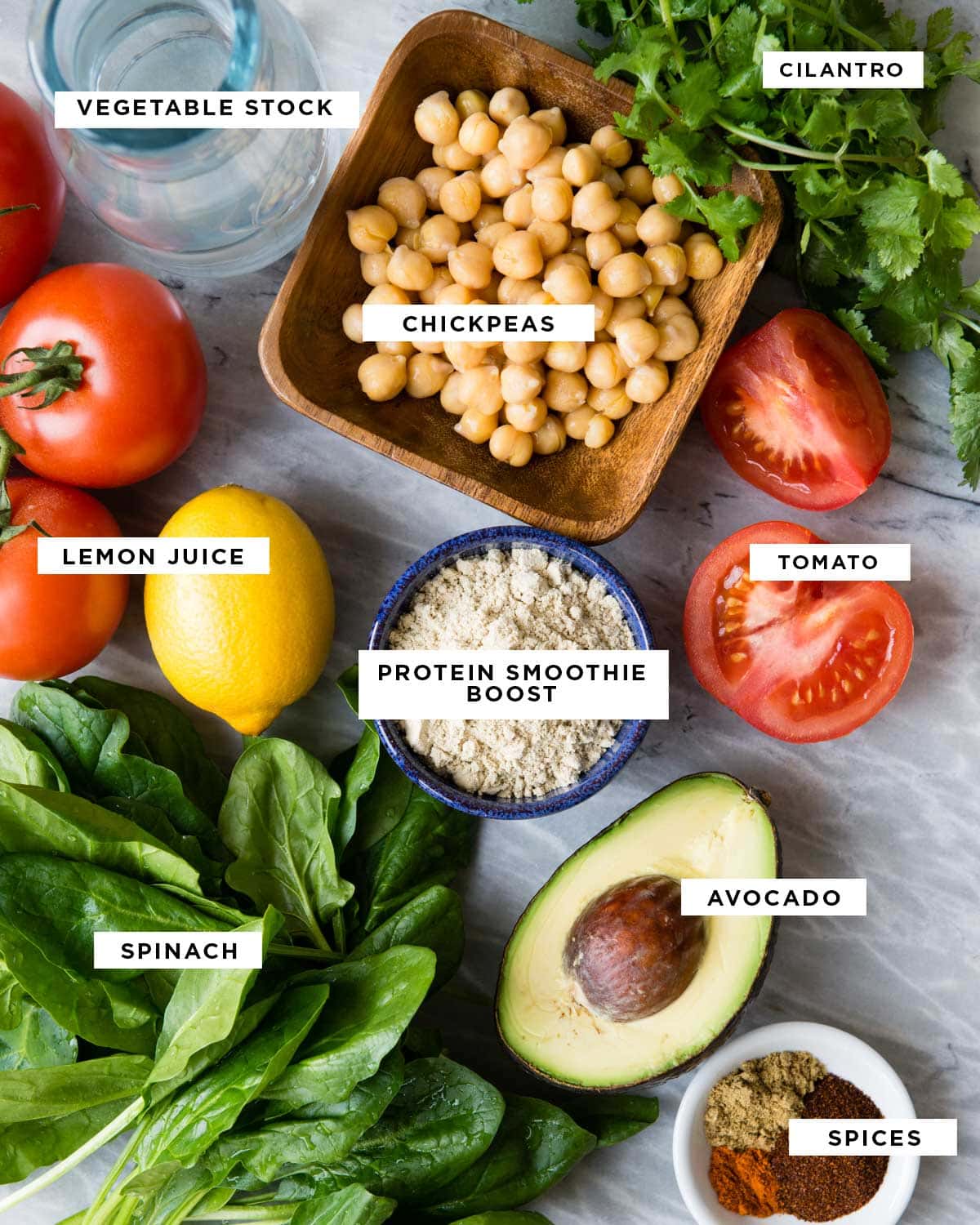 Savory Smoothie Ingredients
My goal for this savory protein shake was to flavor it like my favorite Mexican-inspired dishes. It totally delivers. Here's what I'm blending:
Spinach: The best start to any green smoothie is a bunch of fresh, leafy greens.
Cilantro: I know cilantro isn't everyone's fav, so swap this with parsley if needed.
Vegetable stock: Find a low-sodium stock that is JUST vegetables for the best flavor… or make your own!
Chickpeas: I like using chickpeas as a plant-based protein source. They also add creaminess to this beverage.
Tomato: Whether you call it a fruit or a vegetable, tomatoes are a great smoothie addition! They act as a liquid and a plant.
Avocado: Creaminess, healthy fat, what more could you want from this fun ingredient?
Protein Smoothie Boost: Plant-based protein powder turns this smoothie into a complete meal that you won't want to put down.
Lemon juice: Never underestimate the level of brightness a squeeze of lemon juice can bring to any recipe. It helps lighten up the taste.
Spices: I use chili powder, cumin, cayenne pepper, sea salt and black pepper in the blender and sprinkled on top of this savory smoothie for the perfect finish.
Choosing the Right Plant-Based Protein
Did you know that plants are loaded with protein? You don't *have* to eat meat just to consume protein and legumes (beans, lentils, split peas, peanuts, etc) are a great plant sources of protein. I use canned chickpeas in this savory smoothie since they have a mild taste and are easy to toss in.
You can swap them with black beans, pinto beans or lentils if you want. Just make sure they are canned or cooked beforehand then blend them in.
I really wanted this smoothie to be a complete meal, so I also add in my plant-based protein powder, Protein Smoothie Boost, for a tasteless and clean boost.
Adding Vegetables to Smoothies
If you cringed a bit at the title of this smoothie then you're not alone! Smoothies are traditionally on the sweeter side and some people think the more tropical, the better. Yet you don't have to blend a savory smoothie just to enjoy the benefits of adding vegetables to your smoothies. In fact, every time you blend a green smoothie, you are adding leafy green vegetables to your day!
I know that some 'vegetables' are technically fruits, but for ease of discussion, I'm talking about the plants we typically view as not-sweet or ones that we'd put into a taco vs a fruit bowl. Here are my fav vegetables to add to smoothies:
| | | |
| --- | --- | --- |
| avocado | celery | legumes |
| beets | cucumber | pumpkin |
| butternut squash | fennel | sweet potato |
| carrots | herbs | tomato |
| cauliflower | leafy greens | zucchini |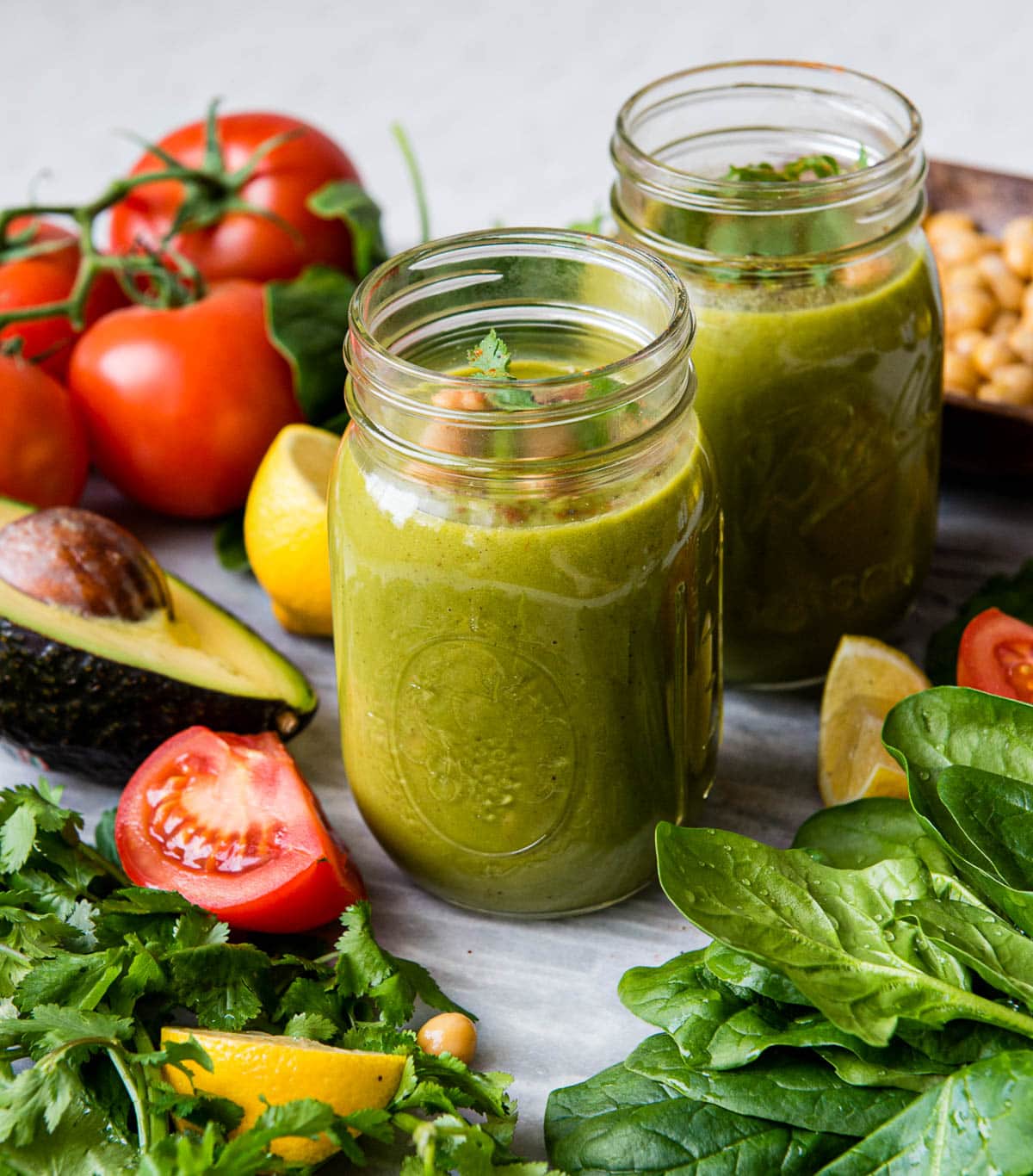 How to Blend A Plant-Based Savory Smoothie
Savory smoothies blend just like sweet smoothies, so use the two-blend method with this one:
Blend spinach, cilantro and vegetable stock in a blender until smooth. You want to blend until there are no leafy chunks left, so be patient!
Add the remaining ingredients, including the spices, and blend again until smooth. This smoothie uses 'softer' plants so the blender shouldn't have to work overtime to blend up the vegetables.
If you still want a refreshingly cool smoothie then toss in an ice cube or two once you've poured the blended smoothie into a glass or chill for 15 minutes in the fridge before enjoying.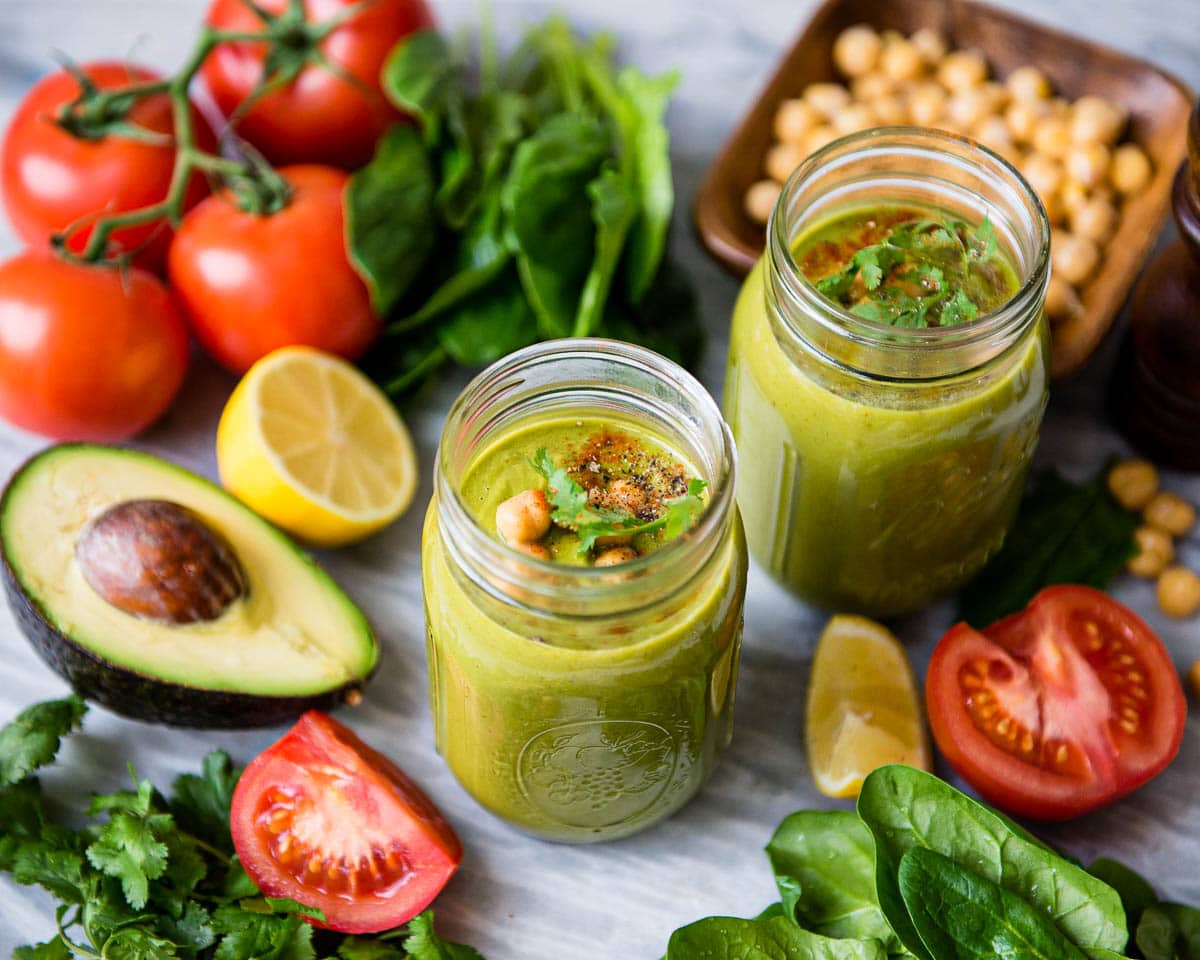 Savory Smoothie FAQs
How do you spice up a smoothie?
Spices are a great way to create new and better flavors in a smoothie. For this savory smoothie, I use a variety of spices to bring out a Mexican-inspired salsa flavor. Sometimes I even add hot sauce to this smoothie! It's a game-changer.
Are smoothies good for weight loss?
They can be! Fueling your body with a variety of fruits, vegetables and plants is a great way to start a weight loss journey. Smoothies can easily add that variety to your day in an easy-to-consume beverage that's fast to make. Just don't get stuck in a rut making the exact same smoothie every day. Switch it up!
Can smoothies be salty?
While I wouldn't just go tossing salt into all your smoothies, it's definitely a great way to heighten the flavor and create depth in a smoothie. I use just a pinch in this savory smoothie to highlight the flavor of the tomatoes and chickpeas.
More Vegetable Smoothies
Now that you're more comfortable blending vegetables into smoothies and not just fruit, let me share a few of my favorite veggie-filled smoothies. Some are sweet and some are savory but all are delicious!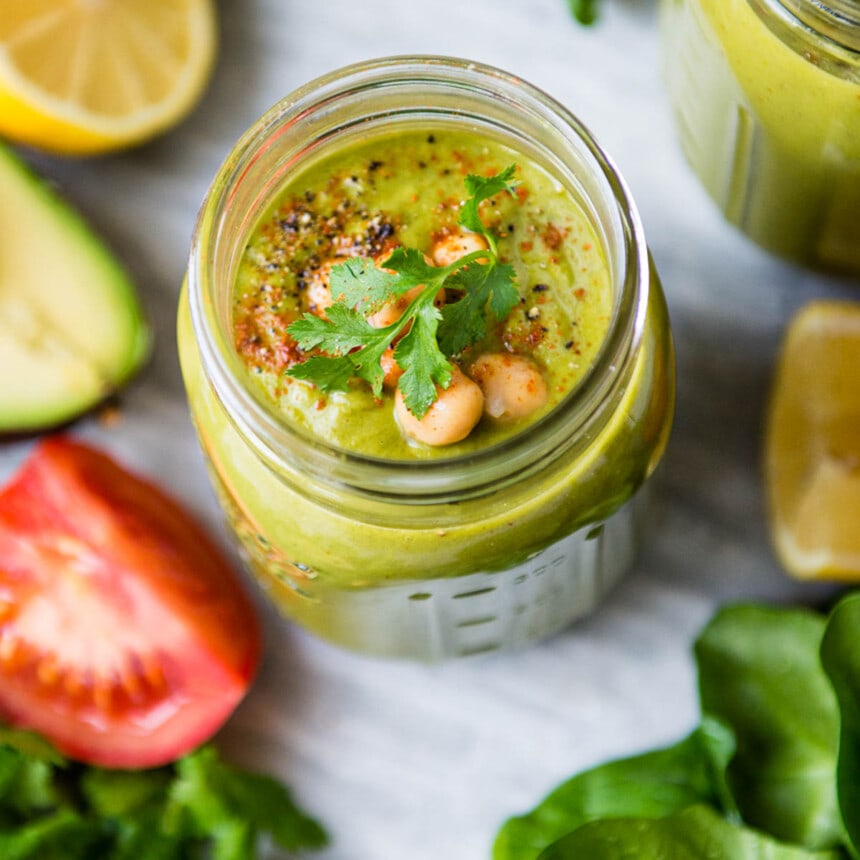 Savory Smoothie
If you're looking for a not-so-sweet smoothie then this savory smoothie is for you! It is naturally protein-packed and full of the flavors of my favorite fresh salsa. It's definitely a unique departure from the traditional fruit sweetened smoothies, yet I dare you to give it a blend!
Ingredients
1

cup

spinach

½

cup

fresh cilantro

1

cup

vegetable stock

½

cup

chickpeas

canned (drained)

½

cup

tomato

fresh (diced)

¼

avocado

1

serving

homemade protein powder

½

lemon

juiced

½

tsp

chili powder

¼

tsp

cumin

ground

⅛

tsp

cayenne pepper

⅛

tsp

sea salt

⅛

tsp

black pepper

ground
Instructions
Place spinach, cilantro and vegetable stock in blender. Puree until smooth.

Add remaining ingredients, blend again. Taste and add more salt and pepper, if needed.
Notes
Swap chickpeas with the bean/lentil of your choice (just make sure they are cooked/canned and not raw). 
Protein Smoothie Boost adds 10g of protein, 4g of healthy fat and 7g of fiber. Swap with your fav plant-based protein powder. 
If you can't handle the taste of cilantro, swap it with basil or parsley.
Nutrition
Calories:
358
kcal
,
Carbohydrates:
44
g
,
Protein:
20
g
,
Fat:
14
g
,
Saturated Fat:
1
g
,
Polyunsaturated Fat:
2
g
,
Monounsaturated Fat:
6
g
,
Sodium:
1289
mg
,
Potassium:
1160
mg
,
Fiber:
19
g
,
Sugar:
9
g
,
Vitamin A:
4979
IU
,
Vitamin C:
33
mg
,
Calcium:
159
mg
,
Iron:
9
mg