When you're blending daily smoothies, your blender becomes your most used appliance! Let's learn how to clean a blender so you can keep that machine at peak performance.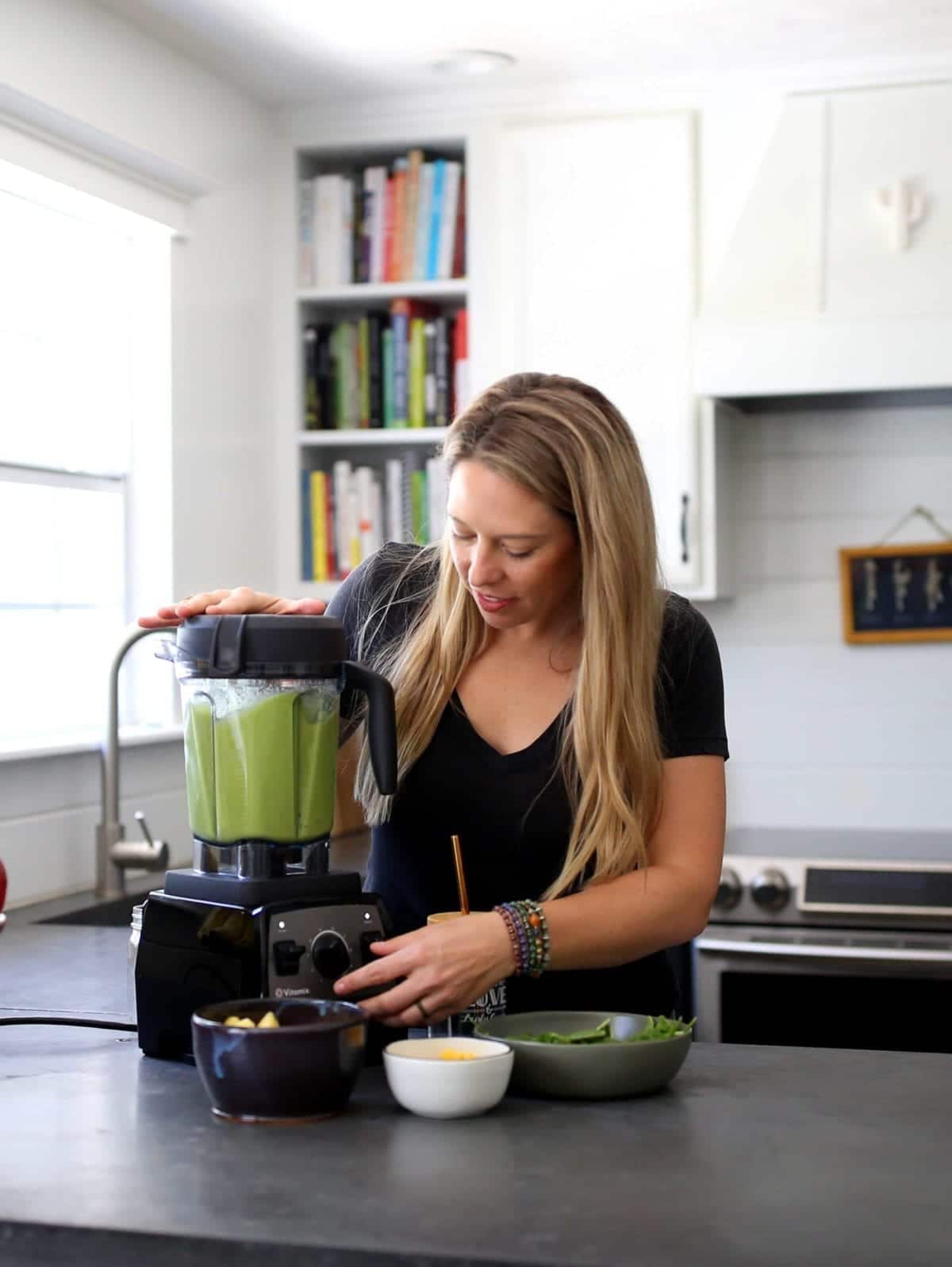 I often get the question, "How do you keep your blender container so clean?!" My cleaning methods work on any kind of blender, from high powered to portable. After this tutorial, you'll be a pro at how to clean a blender. And the bonus… it'll feel like you've got a self cleaning blender!
The self cleaning blender in 3 easy steps
If you've been wondering how to clean that blender without too much work, then I've got the solution for you. Here are three quick steps that I do at least once a week to keep my awesome blender looking new.
Add soap + warm water: Fill your blender about 1/2 way with warm water and a quick squirt of liquid soap.
Blend: Put the lid on the blender (don't forget to do this!), then place onto base. Turn the machine on and let 'er rip for a few seconds, while you watch the magic happen.
Rinse well: Rinse the soapy, foamy water after you're done blending. Then watch your pitcher sparkle (and avoid that extra "clean" taste next time you blend)!
Make sure to follow these steps immediately after blending + pouring out your green smoothie, so that the smoothie remnants don't stick to the sides of the container. I like to rinse out the container before adding soap and warm water, kinda like rinsing off your dishes before sticking them into the dishwasher. This method works on all kinds of blenders, and turns your blender into a mini dishwasher, self cleaning with its own power. No scrubbing for you!
---
Foggy film? It's deep cleaning time!
Does your blender need some extra elbow grease to make shine again? If you notice a foggy film appearing on the inside of your blender pitcher (this can happen in plastic and glass blenders), then use these ingredients to clean your blender right up.
Baking soda
Baking soda is a great + natural ingredient used in many household cleaners. It is a great, as well as safe, cleaner for blenders too! Mix baking soda with just enough water to turn it into a paste. Use a sponge to apply that paste to the cloudy spots in my blender container. Let it set for 30 minutes, then wet the sponge and lightly scrub on the spots with paste. This should create enough friction to help you rub off the film. Rinse the container well, and look at your shiny 'new' blender!
Vinegar
Adding vinegar in with your soap + water mixture can help combat cloudy spots as well. Some people use straight vinegar to clean, yet I find that it leaves an after smell. Since I don't like vinegar flavor in my smoothies, I usually add 1/4 cup of vinegar to warm water, then clean using the 3 step process above. This especially helps when those pesky chia seeds stick to the blades or sides of the container.
How to clean the outside of the blender
Now that the inside of your blender is shiny and new, it's time to make the outside match! Ingredients can get stuck/dripped/spilled on the base of the blender, and need to get cleaned too. I typically use a soft cloth and warm water to wipe down the outside of my Vitamix. Yet if something greasy gets stuck, add a little vinegar to the cloth as well, then apply a bit of elbow grease.
How do you clean your blender? Drop a comment and let me know your fav blender cleaning tips + tricks.